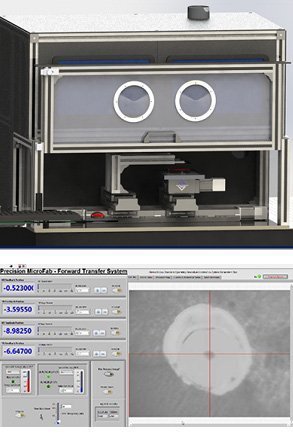 Precision MicroFab™ designed and built a dedicated 3-D bio-printing system using a 193nm excimer laser. We integrated four subsystems to ensure that the cells can be deposited in a precise and repeatable manner while maximizing the survival rate of the cells during the transfer process.
The four key subsystems are:
Incubation System
6-axis Linear Motion System
Laser Optics System
Video microscope with Machine Vision
The incubator subsystem can both add and subtract humidity. It has a real time digital display of the humidity which is controlled via integrated LabView software. The LabView interface also controls all other aspects of the system.
Highlights of the System's Features and Benefits:
Only bioprinter on the market with a humidifying and de-humidifying incubator.
Incubator with LabViewcontrolled temperature and humidity.
Fully customizable LabView Graphical User Interface.
NI Machine Vision.
Fully Integrated Excimer Laser with extremely stable pulse to pulse consistency.
Video microscope with targeting crosshairs and measurement software.
Joystick control of motion stages,
Custom ribbon handling system,
Monochromatic top and bottom illumination of ribbon surface,
Table top footprint of 1 meter by 1 meters plus dual monitor and keyboard.
Excimerlaser with 193 nm wavelength (248 nm capable) with power leveling and the pulse energy stability for experimental consistency and repeatability.
Incubation System:
Provides a computer controlled temperature and humidity environment via a LabVIEW interface. Since the source code is provided, the client can modify the interface, as needed.
A custom incubation chamber built to house the motion stages, and mounting structure for the ribbon and substrate.
The chamber control volume is defined by ½" polycarbonate walls. Thick, low thermal conductivity panel walls help to maintain a steady temperature in the incubation chamber.
Motion System Specifications:
The XY stages for the ribbon and substrate are Aerotechpro 115 stages. These stages are mechanical-bearing ball-screw linear stages that are controlled by the same LabVIEWprogram that controls the incubation system. These stages are driven by a series of amplifiers that are networked to the computer.
The AerotechEnsemble CP10 motion drives are used to send conditioned power to the Pro 115 linear motion stages. These drives are networked in series to the main computer which sends control logic to the drives. The drives interpret the control signal and deliver the condition powered based on this input.
Control System
The motion control is managed by three programs:
LabVIEW(controls the ribbon and substrate stages, and with additional programming can control the Focus and Substrate lift stages as well).
AerotechEnsemble software (only controls the ribbon and substrate XY stacks).
Thorlabssoftware (only controls the Focus and Substrate lift stages).
The main Labviewprogram can be modified to manage the motion input to the CP-10 drives as well as the TDC001 drives as needed. Preconfigured motion process can be executed from the Labview GUI.
Installation & Training
Shipping, Installation, and training.
Re-Calibration and Regular Maintenance.
Warranty and extended warranty options.
Preventive maintenance and service contracts.
Upgrading options.
Phone and email technical support.
On-site emergency response.